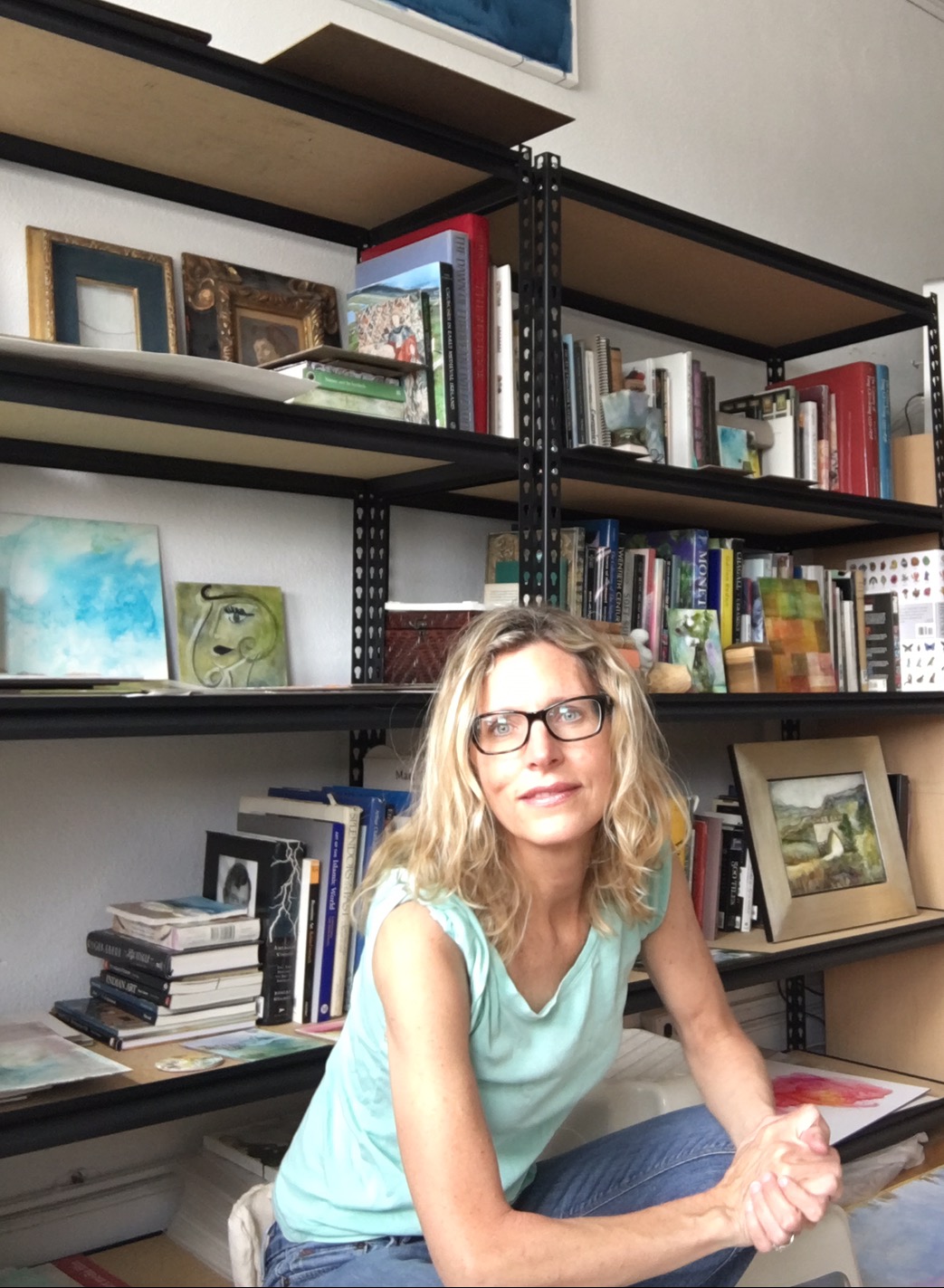 Nina Irwin was born in Pontiac, Michigan in 1965. Both her father and mother were outstanding creatively (artist and musician) and Irwin grew up completely surrounded by classical music, art and literature. This richly creative setting provided the ideal ground for her to develop her own interests in a wide range of artistic disciplines.
Irwin spent a number of years in school, studying various subjects until finally focusing on art. Realizing that she had to "simply finish college," she chose fine art – a decision based mostly on the fact that she "wasted a lot of time" at museums anyway – why not just get her degree in art? Irwin was immediately captivated by her rigorous courses in painting, drawing and sculpture – in which she excelled. This casual decision to study art had led her to her true calling in life.
Nina Irwin's favorite painting subject is the natural world. Translating into semiabstract landscapes, these works suggest the subjects of spirituality and the search for truth and beauty. She paints vast skies and textured, craggy grounds. Sometimes architectural ruins appear amidst an imaginative landscape, but never assert themselves as anything more than a peaceful partner to the natural beauty of the surrounding vista. The paintings are conceived from memories of Irwin's exotic travels combined with ancient places she has studied in art history. These places are pure and quiet– the stillness broken only by the silent dialogue between place (painting) and the viewer. "I strive to convey, through my paintings and sculptures, the actual feeling of a place–much more than its physical characteristics. Here, the painting suggests a place and feeling – which is expanded through texture and color. I want to transport the viewer to another place and time."
The works are carefully crafted using an unusual mono-print technique developed by the artist. Working on clay-coated panels, liquid watercolor and ink are somewhat randomly spread across a paper palette. Then, the rigid panel is
pressed down firmly, "printing" fantastic textures onto the panel. This initial color print is then the basis for the overall subject. The artist then proceeds to "search" for the beauty and a story in each panel – carefully adding to and subtracting from the original, somewhat random mono-print.
Nina Irwin works from her painting and ceramics studio in the historic stockyards of Kansas City. She received her B.A. in Studio Art from UMKC and is currently working on her M.A. in Art History. In addition to her studio work, Nina teaches unique art and art history classes at her West Bottoms Studio and also at the Nelson-Atkins Museum of Art. She is represented in collections regionally, nationally, and globally.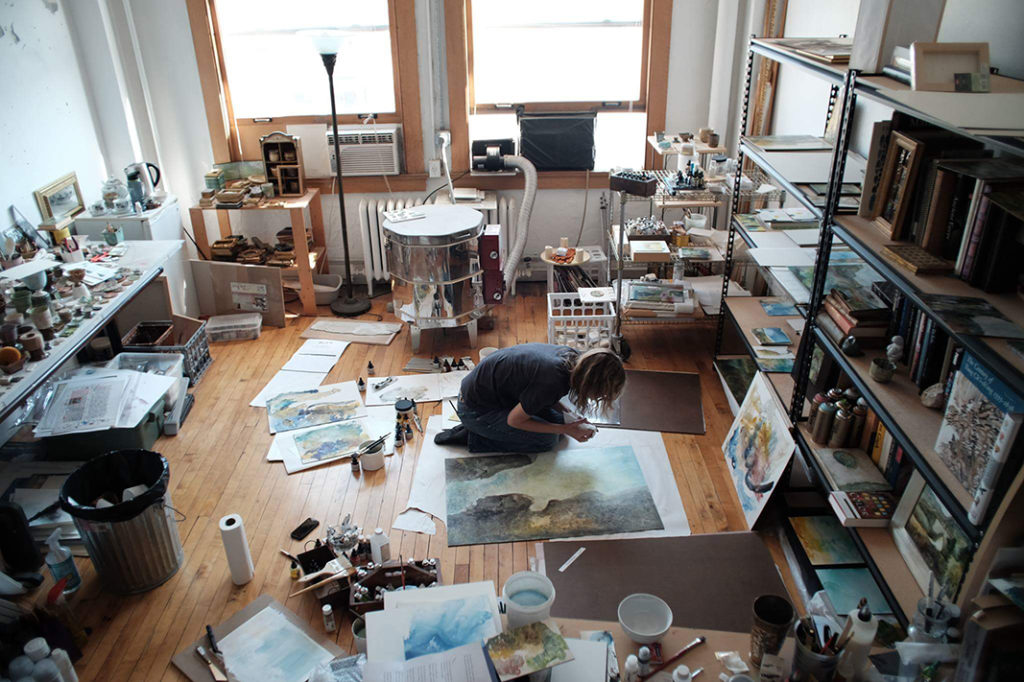 My studio is filled with a myriad of interesting materials. I collect various colors and surfaces and tools, often not knowing how or when I will use them. This array of materials surrounds me and engages me both mentally and physically every day.
My teachers in college did not require any kind of preliminary sketches for my paintings in class. This informal and very open approach to work ended up benefiting me as I found my own path as an artist over the past 25 years. It turns out that exploring a theme and allowing the materials to guide me, instead of working from a preconceived idea, leads to, for me, much more interesting work.
I often start with a random application of color onto a panel. Sometimes I use colors that are foreign to me or even undesirable. My favorite color to paint with is green and I do use it constantly. Sometimes I have to put my greens away! I often press my painting panels into a palette of smeared paint. This creates forms and colors that are a surprise to me when I pull the panel off of the palette. I really enjoy this surprise element. It's like Christmas morning every time. After studying the colors and forms, I start to add and also subtract from the painted surface until I start to find a theme in my panel. I am guided by images in my mind from my many travels and also time spent hiking in nature.
I hope you enjoy these paintings that I "discover" in my daily studio work. The paintings available for purchase on this website are mostly smaller works that don't go to my gallery shows. Larger works are available, as noted, through Tim Ward at Ward & Ward Fine Art in Kansas City, Lisa Russ in Chicago and Arina Lanis in St. Louis. I also enjoy commissions; creating personal works expressly for my clients. Please don't hesitate to contact me with any questions you have. We can always provide more information for or photographs of a painting or sculpture that interests you.